What defines "cool"? As is the case in real life, in basketball terminology the definition is fluid.
Ultimately, these players are trendsetters. What they do on the court and off it is equally important.
Have they changed the game of basketball? Have they built an unmistakable brand?
Please Keep in Mind that this is a personal opinion.
1- Amir Saoud
Ryiade's Shooter "The Prince" Amir Saoud Tops our list.
And why wouldn't he be? As the stat sheet shows, his capacity to attack the rim and freakish athleticism make him nearly impossible to contain. Slashing 3 pointers in crucial times but we're not only talking about that , his dedication to his team ,being a 6th man, and our main point is the mutual Love and respect between him and the fans.
the Main cool point of Amir is the Love of all Lebanese basketball fans towards him , nobody hates this player even his rivals were the most cheering for him in the Lebanese basketball Team in Fiba Asia Championship.
Doing weird beard and haircuts to every occasion, communicating with his fans on social Media, funny reactions during games,the love he gives in every single match to his youngest fans is what made him the coolest Lebanese Basketball Player.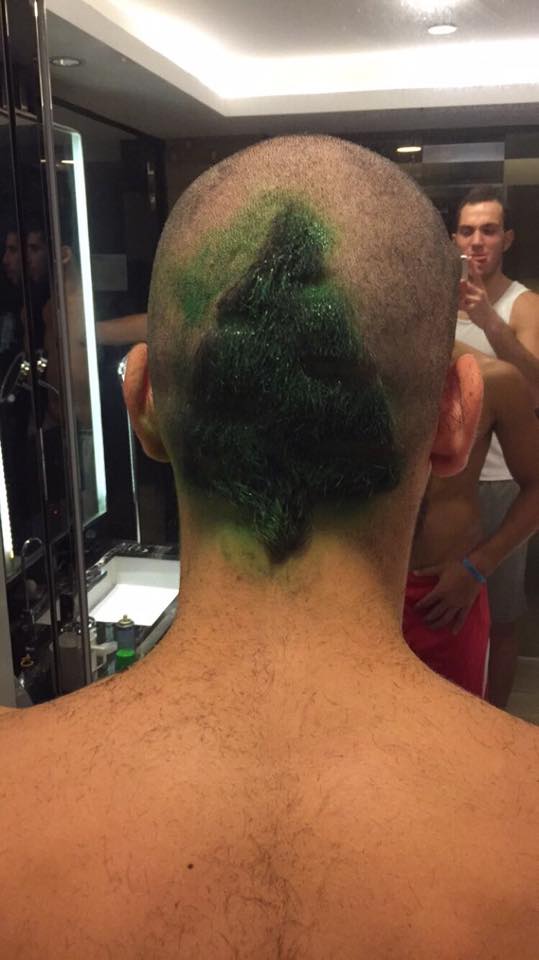 2-Nadim Souaid
Without further thinking, you can ask Champville Fans about this Amazing-Heart Player. Professionally this player has proved to give his heart out for his team , fighting for every ball, motivating players and fans , this player is just Amazing.
What make Nadim in our top cool list, is the dedication to his fans after every champville game , he hits the fan base, stands in front of them and starts cheering with them.
You can see his funny ,living- soul in every game , every event.His fans just adore him.
Nadim posts every single training of his academy students on facebook , motivates them after every game and every training session.
3-Ali Haidar
Since his arrival to lebanon, Riyadi's beast stole the heart of his fans also presenting a very good season.
Fans Wait for Ali in every game , to see the "Socks Of The Day" . Yes Haidar has special socks in every single Game. and what makes him in our top list is his funny reactions during games and outside the court , he's just a Soul Person, he spreads joy and laughs wherever he goes.
And his latest Daring actions was in yesterday's game in Manara when he actually proposed to his Partner, after faking an injury while training.
check the proposal here: http://sports-961.com/lebanese-basketball-riyadi-player-proposed-in-manara-video/
4-Daniel Faris
When you meet this Sagesse Player, you will understand what we're talking about.
After every game, you see Daniel with a huge entourage of fans , taking funny pictures, laughing at his jokes, this man has just got the "best fans pictures" of all time.
After every play he makes funny acts to fans during games and training , talks to them, replies to their messages and questions. He's just a big motivation and funny source to his teammates.
5-Wael Arakji
Our NBA future Star, Riyadi's Guard has the love of every lebanese basketball fan, He's just a phenomenal player and person.
what makes Arakji special that at his young age, the level he's presenting is very high but he's still down to earth always taking lessons from his older teammates and always trying to get the best out of him.
He's just motivating young kids. They see him as an idol and they always show him support. In return as we said this player is humble and always motivating them and responding to their support.
If we want to add more players to the list , we won't finish, from Ali Mahmoud , Moe Ibrahim, Ahmad Ibrahim,Hassan Dandash,Rodrigue Akl,Robert Bou Dagher,Wael Arakji,Ismail Ahmad and many others.. but surely we can say one thing that from all the clubs in lebanon, Riyade will Top up the coolest players in Lebanon and maybe that's the main reason for them winning championships.