"I've been living in Dubai for almost 6 years and at every chance I get for a vacation I immediately book any place that is not Lebanon. I mean why spend time and money in a country that is so corrupted right?Until this year, when I decided that I will go and start exploring. I was amazed at the beautiful spots I found!! One thing that I would still love to do one day is hike the Lebanon Mountain Trail.So below is just a small list of some places that are worth seeing and things to do that would cost you almost nothing. Make sure to tag #ExploreLebanon on Instagram so that I can see your pictures! To follow more of my adventures and outdoor activities, follow me on Instagram @monkyseemonkydo and like my Facebook page!"
1.Swim with Turtles in Tyre
Just go to Al-Jamal area, visit Captain Bob and have a nice fish meal, take a dip in the water ( make sure you have your snorkeling gear and your Gopro) , put a smile on your face and get ready to meet one of the turtles and snap a pic! I called the one I met Farouk coz he just looks like one Also, rent a kayak and roam around the small island there.
2.Hike and Swim in Lake Chouwwen
I went to this lake 2 years ago and I couldn't believe I was in Lebanon. The water is so blue and so clear! To reach it you need to drive to Ftouh Keserwen and then hike almost an hour and a half. Make sure to have your swimsuit to take a dive in the freezing water!
3. See the Deer in Ammiq Natural Reserve
Who knew what treasures our Bekaa has to offer! Drive to Ammiq and walk through the lakes, trees and beautiful scenery which constitutes its natural reserve. You can spot some deer roaming around if you're lucky! Then after you're done, go have lunch at Tawlet Ammiq and end your day with delicious wine at the winery.
4.La Maison de La Foret in Bkassine
I was thrilled to know that this place happens to be 20 minutes away from Saida which is my hometown. You can spend the afternoon doing different activities such as zip-lining, climbing and mountain biking. Then end it with a yummy dinner and stay the night in the beautiful bungalows placed between the pine trees. Ask about any canyoning trips going on and make sure to do that if you like adrenaline!
5.Deep water soloing in Chekka
Being someone who is so passionate about rock climbing and about the sea, deep water soloing is one of the activities that I enjoy doing a lot regardless of my fear from jumping into water from high places ( you need to jump to get to the cave and trust me that took me a while). However, it's a beautiful place to experience if you're into this stuff. To reach there, you need to park next to the Chekka tunnel and walk about 20 mins. You will see the old train railway on the way. Make sure to have proper climbing shoes!
6.Rock Climbing in Tannourine
I started Rock climbing in the UAE so to go to Lebanon and find this place that was featured on a North Face documentary made me want climb there so badly! If you are a rock climber or even someone who just wants to try rock climbing, you absolutely have to go there. Go with your experienced friends or book a trip or a course with Flying Frog . Make sure to visit the beautiful waterfall of Balouu Balaa on the way there.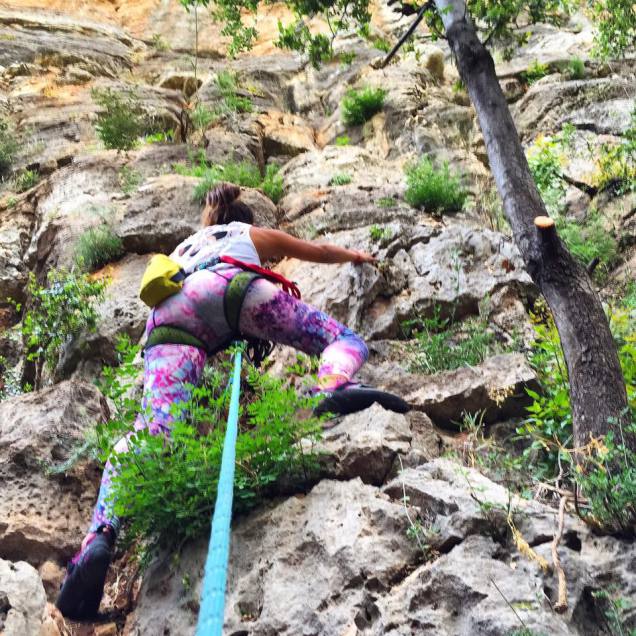 7.Small town of Anfeh
Is this Greece? Nop! We are still in Lebanon. How cute is this little town? It's called Taht El Rih and you can go there spend the day and swim in the clear waters for free! You can also have lunch and enjoy a cold beer for as little as $5.
8.Gibran Museum and Cedars forest
Gibran is one of my favorite authors of all time so I have probably visited his museum and place of burial more than 4 times. It is located in Bsharre, his hometown, and it is absolutely worth visiting. After you're done , drive to the Cedars and take a walk in the cedars forest.
9. Old Trainstation in Riyaq
When I knew that we once had a train and the train station still exists ( only rusty and non-functional), I was really curious to see it. You will find this station in the town of Riyaq in Bekaa near the city of Zahle. After you're done touring, have lunch at Restaurant Raymond and try their specialty chicken ( they will know what I'm talking about).
10.Cave in Ras El Bayyada
The final stop will be in the South after the city of Tyre. This place in Ras El Bayyada was explored by a friend of mine who is from the city and is in love with the sea. Get special shoes because it might be a little slippery and enjoy the white rocks and the clear waters. You can go for a swim but you have to be extra careful!